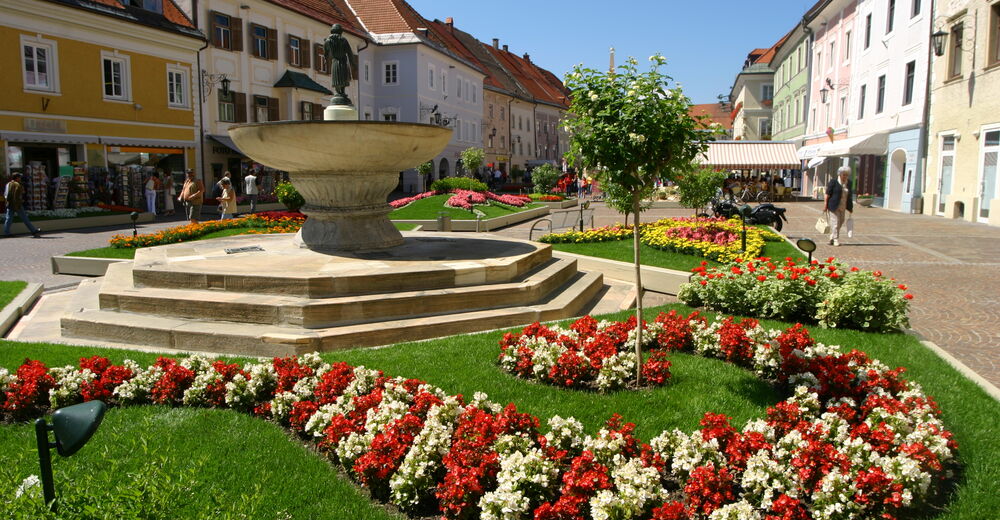 St. Veit - on the pulse of time
Past & present ...
Already the old dukes knew where the beautiful places were. St. Veit, which was once
the provincial capital of Carinthia, doesn't only offer special features for your holiday
within the historic town walls; it is its central location which makes it a particularly ideal
starting point for a large number of action-packed trips to attractions, crystal-clear
bathing lakes or fabulous skiing areas.
Time for a change ...
Out of your everyday routine & into fun! Be it unspoilt natural countryside or
partying at events: we've made sure that there's plenty of fun & variety!
Time for delights ...
Treats for the palate and the ears – take some time out for enjoyment. From a
traditional platter of cold cuts served on a wooden board to award-winning gourmet
cuisine, from traditional folk events to cultural highlights – the choice is yours.
Time for exercise & nature ...
Exercise in harmony with nature, be it in summer or in winter. Those who don't
want to be so sporty can enjoy the subtleties of the varied countryside.
Time for contrasts ...
Immersing into the Middle Ages and enjoying all the comforts of modern times.
The old, thick town walls and transparent glass passages create a setting of special
architectural contrasts.
Renewable energy ...
is on everybody's lips, but do people really know what it means, what types of renewable
energy there are, what they look like and how they all work? St. Veit Municipality
launched the "Sunshine City" project to answer these questions in addition to producing
and using its own alternative energy. The city has built several photovoltaic plants to
generate renewable energy; it has a focus on electro-mobility and set up the "Discovery
World" multi-media exhibition on renewable energy at the Fuchspalast in St. Veit. Renewable
energy made tangible. www.erlebnis-energie.com
Fuchspalast Art Hotel ...
Hotel Fuchspalast is the first art hotel in the world designed by the Austrian painter,
Prof. Ernst Fuchs. The entire architecture and interior design are in the style of Fantastic
Realism. Magnificent colours, striking forms, Tiffany glass on the external façade and
500 m² of glass inside, as well as lead glazing in the area of the main entrance create
an unforgettable atmosphere.
Infos: www.stveit.com
---
---
Tipy pro volný čas St. Veit an der Glan
Zobrazit všechny tipy pro volný čas
---
Kontakt St. Veit an der Glan

Tourismusregion Mittelkärnten
Unterer Platz 10, A-9300 St. Veit an der Glan
Telefon

Domovská stránka
E-Mail
Žádost und Objednávka brožury Ubytování
Jezera St. Veit an der Glan
Ubytování St. Veit an der Glan
11 Hotely, Rekreační byty...
Webové kamery